Main image
Click to view image in fullscreen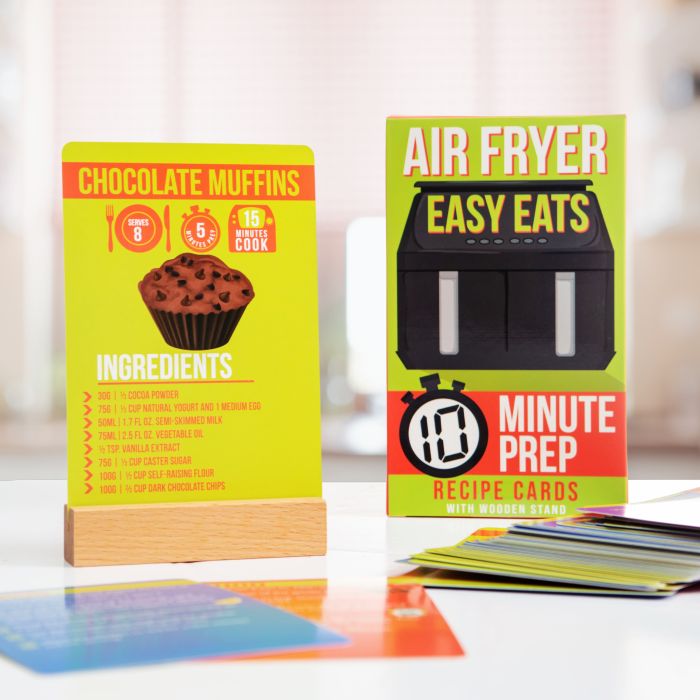 Easy Eats Air Fryer Recipe Cards
Easy Eats Air Fryer Recipe Cards is available to buy in increments of 12
Throw away your recipe books and become the Jamie Oliver of air fryers with our awesome Easy Eats Air Fryer recipe cards! Containing over 50 easy and delicious recipes that can be prepped in 10 minutes and under, these fun recipe flash cards are full of quick recipes so you can become a ninja of air fryers and make meals in minutes! Rustle up meals all throughout the day, from breakfast to dinner, all in your air fryer oven! With 52 large format recipe cards and a quality wooden stand as a recipe keeper whilst cooking, these air fryer healthy and indulgent recipe cards make the perfect fun gift for friends and family, and will turn cooking stocking fillers to stomach fillers!

RUSTLE UP A STORM - These Easy Eats Air Fryer recipe cards are filled with 52 air fryer healthy, delicious or indulgent recipes that will prove anyone can be a ninja in the kitchen!
EASY PREP IN 10 MINUTES - These small air fryer recipes are perfectly written to be prepped in 10 minutes and under, making them quick and easy to follow throughout the week!
SAY BYE TO RECIPE BOOKS - These cards are perfectly compact and portable, and packed full of delicious recipes that will have you making crowd-pleasing snacks and meals in minutes!
STAND TO ATTENTION! - This air fryer recipe flash cards are accompanied with a quality wooden recipe keeper card stand, so you can keep your recipe cards upright while in use!
GREAT GIFT FOR ALL ABILITIES - With recipes for a range of abilities, from amateur to Jamie Oliver, these air fryer flash cards are perfect as cooking stocking fillers or gifts for friends and family!
Depth : 8.60 cm
Height : 14.30 cm
Width : 2.00 cm