Main image
Click to view image in fullscreen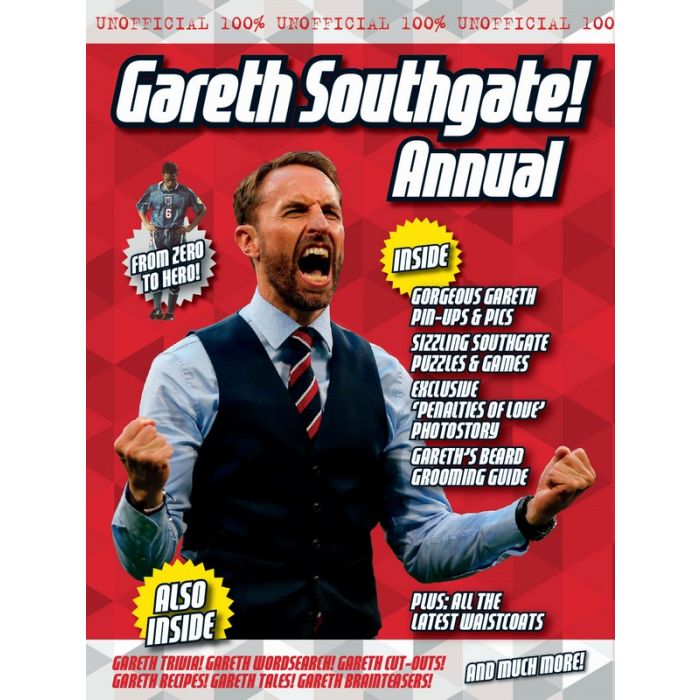 Gareth Southgate! Annual
YST0155
Out of stock - available for backorder
Gareth Southgate! Annual is available to buy in increments of 12
The Unofficial Gareth Southgate Annual is officially the only 100% Unofficial annual to feature the man who as a player famously missed a penalty and clutched defeat from the jaws of victory, only to turn that 22 years of hurt into a series of nail-biting wins at Russia 2018. Though he didn't succeed in steering the exciting new England team to a glorious final, this year's man of the moment is Gareth Southgate.

This book is for anyone who remembers Euro '96 as the golden age and is now dusting off their cynicism reliving their youth, as well as a whole new generation of untarnished England fans. It's for all lovers of the beautiful game as well as lovers of a well-turned-out waistcoat.

Fun games and activities include:
- Dress-up Gareth football hairdo doll
- Gareth's 'A-Maze-Balls' Amazing Football Maze
- 'What Would Gareth Do?' problem page
- 'Gareth and the Amazing Technicolour Waistcoat' story
- Gareth's 'World of Cups' World Cup Game

Plus masks, quizzes, games, brainteasers and a whole lot of football-related fun.
PAGINATION 8
FORMAT HB
New book for Autumn 219!!
Depth : 22.00 cm
Height : 1.00 cm
Width : 29.00 cm