Main image
Click to view image in fullscreen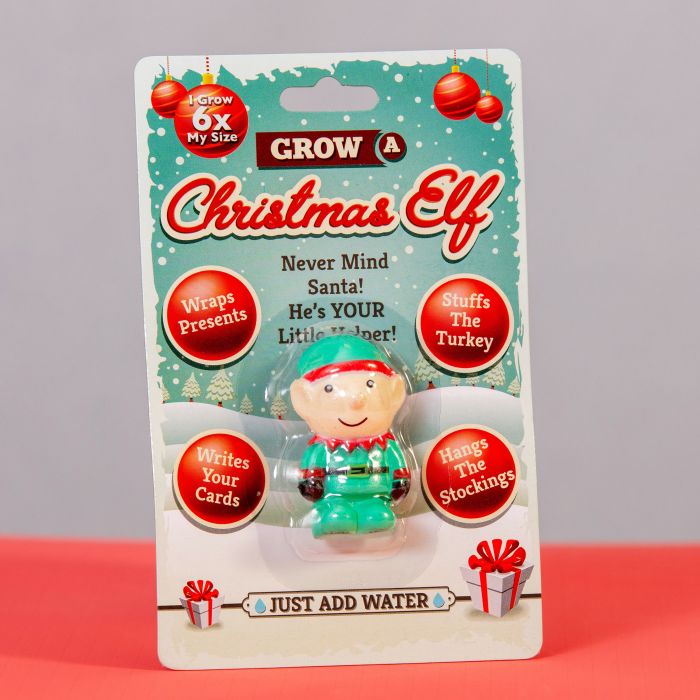 Grow A Christmas Elf (12 CDU)
Grow A Christmas Elf (12 CDU) is available to buy in increments of 12
Fairy lights got you all tied up? Need a little helper to ease your festive fears?

Whether you're as little as an elf, or as big as Santa himself, this hilarious little buddy is a perfect companion this Christmas. Watch how he helps to wrap up presents, stuffs the turkey, writes your cards and hangs the stockings without a single complaint. Okay... So he won't actually do any of that, but he can grow up to six times his original size when popped into water, which is pretty awesome! This friendly little elf will shrink when taken out of water, so you can grow him again and again. Sure to put a smile on your face no matter your age, this brilliant novelty toy makes a cute, Christmas themed gift for somebody who needs a little Christmas help this year.

THE ULTIMATE CHRISTMAS STOCKING FILLER! - Need Some Help Wrapping The Presents This Christmas? Grow Your Own Santa's Little Helper Toy - An Elf! Sure To Put a Smile On Any Child's Face, This Is The Ultimate Christmas Stocking Filler/Stuffer!
GROWS UP TO SIX TIMES ORIGINAL SIZE! - Simply Grow In Water And Watch The Magic Happen!
GROW ME OVER AND OVER AGAIN! - Remove From The Water Once Fully Grown And Watch The Elf Shrink Back To Its Original Size Ready To Be Grow Over And Over Again!
Depth : 17.00 cm
Height : 4.00 cm
Width : 10.00 cm