Main image
Click to view image in fullscreen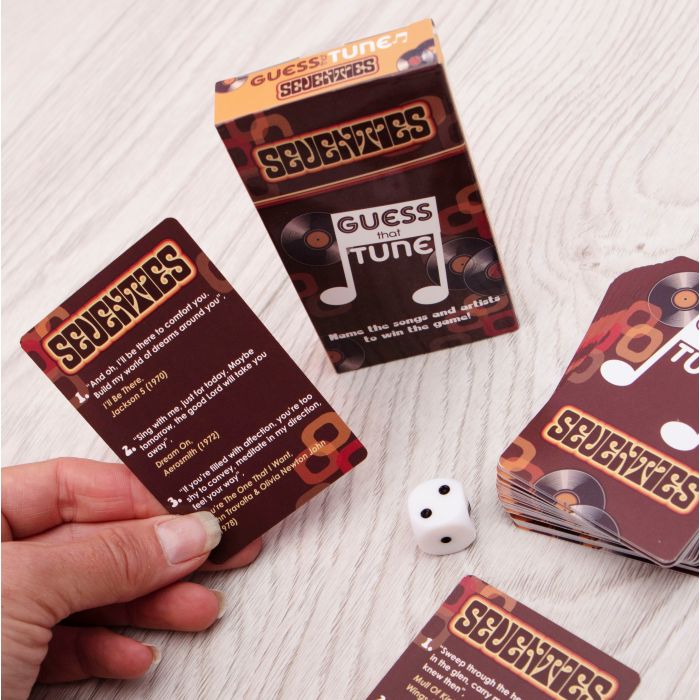 Guess That Tune - Seventies
Guess That Tune - Seventies is available to buy in increments of 12
Love singing to your favourite seventies songs? Do you actually know the words? Guess that tune with just a single line, and show your friends you're top of the pops (even if you no longer own a pair of flare bottoms!) Whether you prefer The Sex Pistols, Blondie or Elton John, with over 150 songs to guess, you're sure to be entertained for hours! Pocket sized, this handy little pack of cards is perfect for parties, family games night, or music loving friends on their Birthday, Secret Santa or as a stocking filler at Christmas! How to play: 1. Roll the dice to determine which song you must guess. 2. Without showing it to the other players, the person to your right must pick a card and read out the lyric. 3. Try and guess the song or artist correctly to win the card. Guess both to also play again. 4. The person with the most cards at the end wins!
TEST YOUR MUSIC KNOWLEDGE – Roll the dice and guess the seventies tune on the card to earn points and show your friends you're top of the pops!
HOURS OF ENTERTAINMENT – With over 150 songs to guess, you and your friends are sure to have fun for hours!
PERFECT FOR PARTIES & 70'S MUSIC LOVERS - Great for Christmas, family games night and hen nights, this is the ultimate party game for 70's music lovers!
POCKET-SIZED - This pocket-sized pack of musical cards are easy to carry around making it a great addition to any party!
Depth : 11.00 cm
Height : 2.00 cm
Width : 6.00 cm