Main image
Click to view image in fullscreen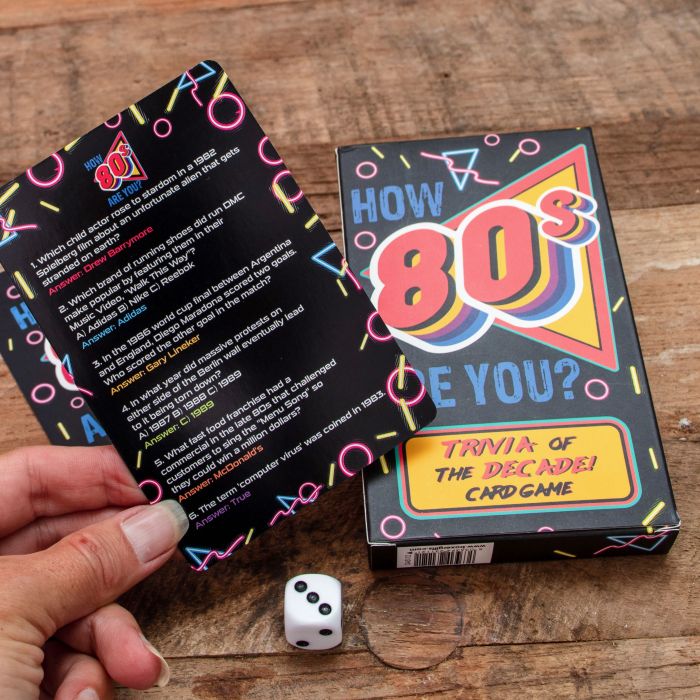 How 80s Are You? 80s Trivia Cards
How 80s Are You? 80s Trivia Cards is available to buy in increments of 12
8s obsessed? Have a love for colourful leggings and backcombed hair? If you love the 198s, why not test your knowledge to see...how 8s are you? Containing 52 large format cards and a dice included, you can challenge you and your friends to see who is the king or queen of the Eighties! Simply roll the dice and answer the matching question - with over 3 questions across 6 categories - from TV and Film to Music, True and False to Sports! Perfect for a retro games night, our 8s trivia cards are a great novelty gift for friends and family!

TELL IT TO MY HEART - Our fun Better In My Day 80s Trivia Cards Game is perfect to play with friends and family who are 80s obsessed! Roll the dice, answer the question, and discover the champion of the Eighties!
GREAT RETRO FUN - This trivia game includes a 6-sided dice and 52 large format playing cards, each containing 6 possible categories: TV and Film, Music, Sports, Politics, General Knowledge, and True or False - something for everyone!
AWESOME DESIGN - This game is presented in a bright, fun gift box, so it can stand out on any shelf or games cabinet!
JUST CAN'T GET ENOUGH - With over 300 questions to choose from, the fun goes on and on!
GREAT RETRO GIFT FOR FRIENDS - If you have a friend who loves the 1980s, this is the perfect fun novelty gift for decade obsessed people of all ages!
Depth : 14.00 cm
Height : 2.00 cm
Width : 9.00 cm