Main image
Click to view image in fullscreen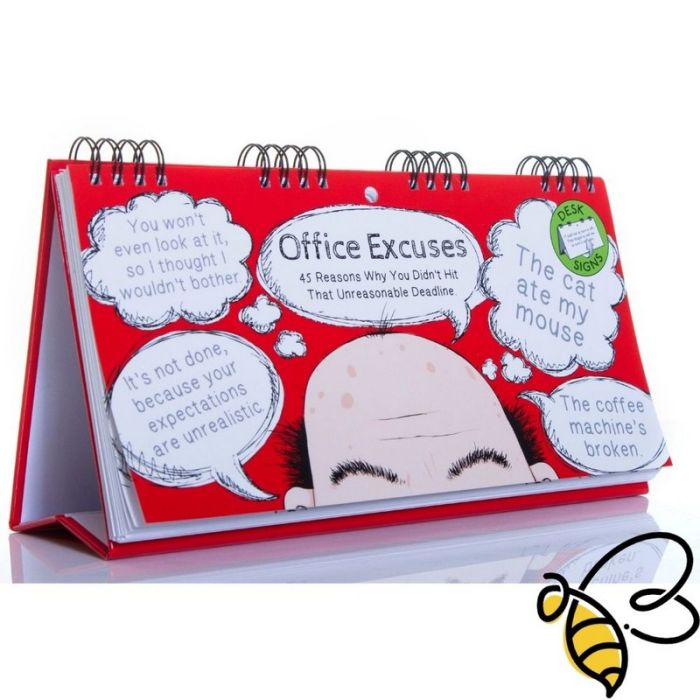 Office Excuses Flip Book
Office Excuses Flip Book is available to buy in increments of 6
Need an excuse, FAST??
This hilarious spiral bound flip book is filled with 50 pages of fool-proof reasons to excuse your procrastination, giving you plenty of reasons why your boss shouldn't expect that much needed work from you. From "The cat ate my mouse" to "IT told me to turn it off... then forgot to tell me to turn it on again", this book has an excuse for everything and can even stand up on your desk for easy access. Forget about that spreadsheet which was due three weeks ago. OOPS! An hilarious gift to yourself or the procrastinator in your life.
FUN FLIP BOOK - A funny spiral flip book, perfect to stand on your desk in the office!
GREAT FOR COLLEAGUES - The perfect gift for a friend or colleague who likes a good excuse.
Great for birthdays, Christmas and all other occasions.
Dimensions: 14 x 25 x 2cm
HILARIOUS CONTENT - 50 pages full of fool proof (or maybe not so) excuses.
Depth : 25.00 cm
Height : 2.00 cm
Width : 14.00 cm