Main image
Click to view image in fullscreen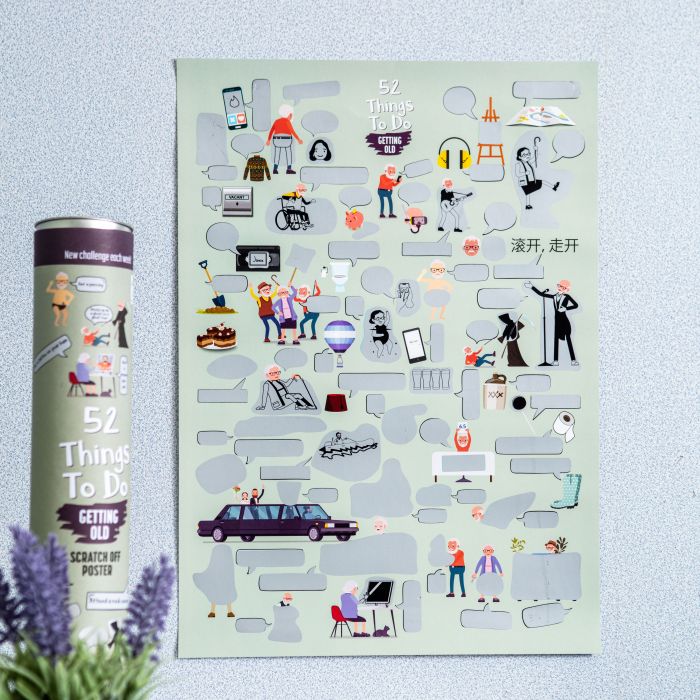 Scratch off - 52 Things To Do Getting Old
Scratch off - 52 Things To Do Getting Old is available to buy in increments of 6
Who says old age has to be boring? Why spend your days going to national trust houses or falling asleep watching match of the day - after working for so many years, don't you think it's time to finally…let loose? Show the youngsters how it's done and get inspired with our hilarious old age-themed scratch-off poster, to make getting old more wild! With a range of activities, from achievable to outrageous, quirky and stupid, navigate your way through your later years with style! The perfect novelty old age humour gift for friends and colleagues, our scratch off poster is sure to make your more senior years the best and most exciting yet!
ELDERLY REBEL - This hilarious 'Getting Old' Scratch Off Poster is the perfect tongue-in-cheek activity for ageing friends and family to get creative with their free time!
BUCKET LIST STYLE SCRATCH OFF - This funny take on the classic 'getting old' bucket lists features fun and cheeky reveals, so you never quite know what to expect!
FROM CONVENTIONAL TO CRAZY - The activities listed range from bog standard to funny and wild, so mark them off…if you dare!
PERFECTLY PACKAGED - Coming in a colourful protective gift tube, this poster is protected against most things…aside from ageing nutters!
THE PERFECT GIFT FOR HIM OR HER - Our Scratch Off 'Getting Old' Poster makes the perfect novelty old age humour gift for colleagues, friends or family!
Depth : 6.00 cm
Height : 33.00 cm
Width : 6.00 cm