Main image
Click to view image in fullscreen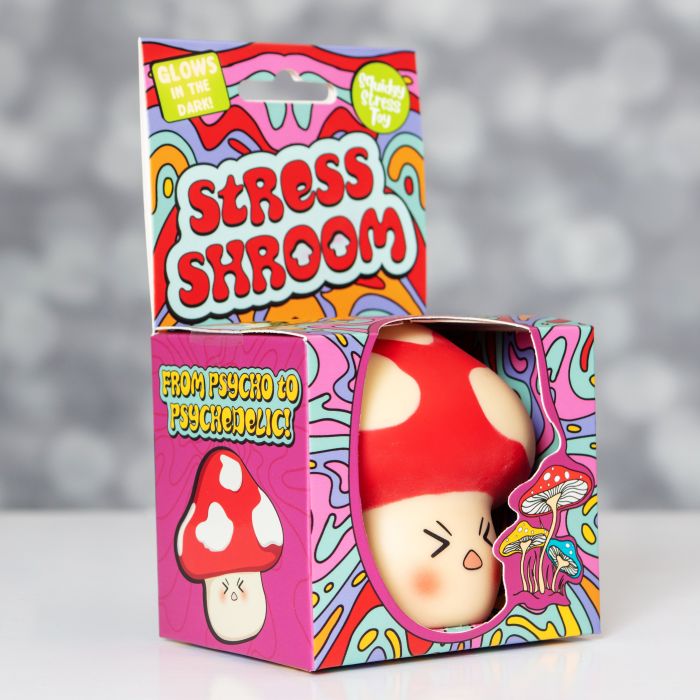 Stress Shroom
BB2238
Out of stock - available for backorder
Stress Shroom is available to buy in increments of 12
Calm your consciousness and take a trip with our psychedelic Stress Shroom! This magic fungus fidget toy is sure to help your brain melt from stress, open your third eye, and feel like yourself once more!
This fun stress ball is a cute desk accessory, and is a great stress relief toy for adults and colleagues, and for adding cute stuff to your home office!
Packaged in a trippy, fun box, this friendly mushroom stress toy will comfort you as you slip away from your worries! Our friendly shroom makes a great fun mushroom gift for anyone looking for the perfect stress relief toys on their birthday, at Christmas, or even for a secret santa gift in the office!
LET STRESS MELT AWAY! - Our cute Stress Shroom mushroom stress toy is an adorable stress relief friend perfect for easing away those everyday anxieties and bringing some 'mush' needed relaxation!
GRAB LIFE BY THE (STRESS) BALLS! - Our bright and colourful mushroom stress balls are a great funny gift for adults who need to squeeze away stress and anxiety the fun way!
GREAT FUNNY GIFT FOR FRIENDS - Packaged in a gorgeous psychedelic groovy box, this friendly mushroom toy is a great comforting secret santa gift for colleagues on their birthday or at Christmas!
OPEN YOUR THIRD EYE - Stress balls for adults don't need to be boring! Our fun mushroom toy is great for bringing some psychedelic calm to your worries, and is great for stress relief on the move!
FUN DESK ACCESSORY - If you want to brighten up your desk, this cool stress ball for kids and adults is a perfect squishy fidget toy, and makes great mushroom decor on in an office!
Depth : 9.00 cm
Height : 15.70 cm
Width : 7.40 cm