Main image
Click to view image in fullscreen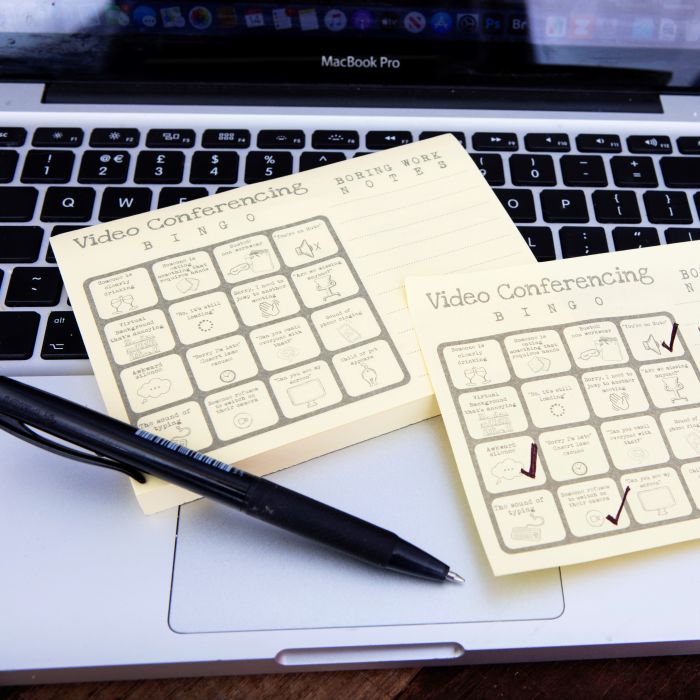 Virtual Meeting: Bingo Notepad
Virtual Meeting: Bingo Notepad is available to buy in increments of 12
Boss got you working from home? Virtual meetings driving you virtually insane? Cross boredom off your list with your very own video conferencing bingo pad! Send your colleagues (well… the fun ones) a novelty meeting pad too and let the fun begin! Tick off the phrases, distractions and obvious business blunders throughout your meeting until the sheet is complete! The ultimate WFH desk accessory, this novelty bingo pad makes the perfect joke gift for a colleague, as a Secret Santa at Christmas or just because you can't work with them in the office! Don't forget to take some notes though… your boss is watching!
VIRTUAL MEETINGS MADE FUN – Working from home? Need a little bit of entertainment in your working day? With this funny bingo sticky pad, you and your colleagues can have hours of fun!
BOREDOM BUSTING BINGO – When your boss has you and your colleagues stuck in hours of online zoom meetings, bring out this amusing bingo pad and get ticking! With common quotes like "You're on mute", awkward silences and video call distractions (such as pets and children appearing on screen), you can be sure to win a game!
NOVELTY WORKING FROM HOME DESK ACCESSORY – Complete with bright gift packaging, this set of large sticky notes is perfect to sit on your desk at work or even in your home office!
ULTIMATE GIFT FOR COLLEAGUES – The ultimate game for bored employees, gift your colleagues a pack of bingo notes and watch how their interest in the virtual meeting increases! (Just don't let your boss see)
Depth : 20.00 cm
Height : 2.00 cm
Width : 17.00 cm