Main image
Click to view image in fullscreen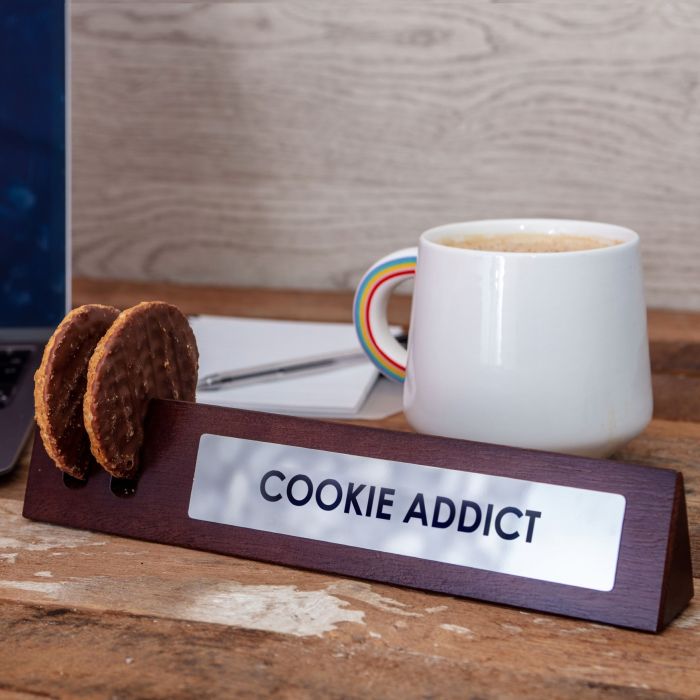 Wooden Desk Sign - Cookie Addict
Wooden Desk Sign - Cookie Addict is available to buy in increments of 12
If you always find yourself covered in crumbs, and your desk is always coated with ghosts of cookie's past, then it might be time to accept that you are a cookie addict. And what better way to accept than to proudly own the title in the office? With our fun new 'Cookie Addict' Wooden Desk Sign, you can own up to your addiction, whilst having somewhere to store your stash! A new addition to our best-selling desk accessories range, our Cookie Addict Wooden Desk Sign is the perfect novelty gift for colleagues - biscuit lovers unite!
LEAVING NO CRUMBS - Our awesome new 'Cookie Addict' wooden desk sign is the must-have desk accessory for biscuit lovers everywhere, featuring a novelty plaque and fun built-in biscuit holder!
(CUSTARD) CREAM OF THE CROP - Featuring a quality metal plaque and slogan, and coated in a gorgeous black paint, this unisex gift is sure to add some stylish design to any desk!
OREO ORGANISATION - Whether you like to dunk your digestives, chew your cookies or bite your bourbons, this is a great way for biscuit lovers to pimp up their desk!
GREAT GIFT FOR COLLEAGUES - Our hilarious wooden desk signs make the perfect novelty gift for friends and colleagues, great for secret Santa!
Depth : 24.00 cm
Height : 6.00 cm
Width : 4.00 cm